I write this wearing fingerless gloves... my hands are really feeling the cold this week and frozen fingers don't type very accurately! And of course Southern England isn't suffering so badly in this cold snap that seems to have hit most of Northern and Central Europe this week. The winds are really howling around my office but at least it's not -25 degrees!
Figures recently released show that the majority of accidents caused this time of year are by drivers setting off before they've cleared their windscreens, mirrors etc, properly.
That's not something I'm generally guilty of but I almost came a cropper this week when I drove off one evening with just a little wet on my windscreen, which didn't cause a problem on my driveway. Once I was on the main road , however, the other drivers' lights made it more difficult to see so I decided to clear it with my windscreen wipers.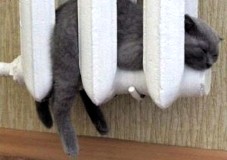 Despite not having used the water spray (before the blonde jokes start!) I was suddenly faced with a completely iced-up windscreen, which was worrying for me but probably even more so for the driver following me! Be warned...
The KBB industry relies heavily on people being out on the road for long hours: delivery drivers, fitters, joiners, salespeople etc. and while it's tiring and pressurised work at any time of the year, weather conditions such as those we're experiencing right now make things far worse, so if you're an employer, try & allow extra time for some warming tea breaks for your team!
One of my friends sent me this picture and it actually makes me feel warmer. I hope - if you're feeling the cold today - it does the same for you!
Yours,