KBzine: the original kitchen and bathroom industry e-news - since 2002
13th April 2018
We strongly recommend viewing KBzine full size in your web browser. Click our masthead above to visit our website version.
---
Annual Bathroom Conference - The Retail Revolution: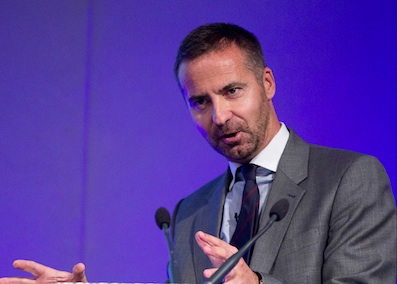 Chicken and charity shops - fighting against the death of retail
Peter Cross, business partner of Mary Portas and managing director of Yellowdoor, delivers the keynote address at the Annual Bathroom Conference:
I'm going to discuss something this afternoon which on the surface of it seems a bit bloody obvious - how we shop today. Yes we know people have less money, yes they shop online. But I want to look at the reasons why.
Let's start with the really obvious stuff - money, and how it's changed. The economic crisis means that heap is accepted and expected. Cheap is clever. The value brands that popped up during the recession have become an accepted part of the retail landscape. Brands which used to compete in the premium-mid market - Waitrose etc - have begun to offer better value. Primark is offering lines which are more akin to the stuff on the catwalk.
16% of items now sold at Tesco and nearly a quarter sold at Asda are now priced at £1, something which is directly in response to the introduction of the ubiquitous pound stores which have taken over from our Woolworths as offering us practically everything at superb value. Everything we buy is reframed against the belief that we can always get it cheaper somewhere else.
The legacy of supermarket Britain is that shoppers expect value, choice and convenience as standard. There is a massive range of products to choose from, when and where shoppers want it. And everyone sells everything - shoes, sandwiches, everything. Everyone is a generalist. Nobody seems to specialise any more - think of WH Smiths.
Online shopping has grown 500% in recent years and is now expected to grow to £40bn sales by 2015. Nobody expected brands could grow online, building loyalty and empathy. Everyone thought the Internet could never be a better experience than going into a physical store. But of course, it has.
Supermalls also have changed beyond recognition - the airless glass boxes just full of shops. They are now completely immersive experiences. Brands like Westfield bring in bowling alleys, ice skating and superstars to perform. People now think of it akin to Selfridges rather than Brent Cross. They took the brand values of a higher-end proposition and emulated them.
We built three shopper profiles which will help businesses navigate the new shopper mentality. If you're not all three, you'll recognise at least one of them:
Empowered shopper - The balance against shopper and shopkeeper has changed. Previously you'd expect the fashion assistant at Debenhams to know more than you do. Now you'd expect the Grazia reader to come in with far more knowledge - she'll have done her research first, she'll have done price comparisons. She'll take a picture in the changing room and send it to her friends to see if it suits her before making a purchase. She'll tweet a picture if she's been left in a queue too long. And she's realised that writing a negative post on her blog is far more likely to have an impact than writing a letter to the customer services department.
Universal shopper - We previously pigeonholed shoppers into a number of distinct different types. Now most of us are all of them at some point, altered by different factors. The universal shopper is affected by mood, mindset, how close payday is, the company she's with, what she's watched on TV that week... This shopper will spend her whole day on Net-a-porter, but will buy from ASOS. The male version of this shopper will spend six hours to save literally a couple of quid on car insurance, but then will spend £300 on a jacket the next day. They will buy fresh ingredients from Waitrose, but unbranded cleaners from Poundland. There are a myriad of different judgments based on how they feel and how they rate the brand. This type might seem difficult to target, but they are extremely loyal.
Value hunter - The way they purchase can be broken down into three different purchase types:
1) Need to haves, your essentials such as food
2) Lust to haves, with which you have a slightly irrational relationship - you are just completely compelled to buy them
3) Nice to haves, which are largely the ones which went during the recession. Wedgwood was a 'nice to have', people felt no real emotional connection to it and they didn't really need it. The value hunters wants 'added value', whether that is service or guarantees. Status symbols have been replaced by status stories - selling the story behind the product. All the major fashion brands now do this. The story of the centuries-old Italian workshop which has crafted the handbag is given much more resonance than simply the logo on it. These shoppers now place the supply chain under scrutiny - should I be eating strawberries in November?
In the retail space there are three words which have perpetually come back, regardless of who we talk to. They are experience, service and specialism.
Experience - We call it being and buying, and Apple is the greatest example. It turned shops into playgrounds, said "Here is your temple; come and play". It's a display of confidence: "We have staff as passionate as you, and you're welcome here to play first and buy second". Abercrombie & Fitch is another great example - it took Gap-style £25 t-shirts, turned off the lights, put a half naked guy outside... Took its visual queues from theatre design and made it sexy. It didn't need to advertise. It left Gap looking old and tired.
Specialism - The best examples of British retailing today are shops guided by specialists. Bread shops, wine shops, opticians. It is saying "We do this better than anyone else". Thomas Pink focused on this - it is only 20 years old, but originally positioned itself as the expert in traditional quality shirts. However it became challenged by discount brands such as the Lewins and Tyrwhitt. It panicked and started selling jeans and lost its way a bit. To refocus on its core specialism, it introduced the White Shirt Bar - that staple of men's shirting. You walk into a Pink now and it's got its mojo back.
Service - I do believe that service is the new selling. One thing that keeps me going through the really difficult times is the idea of really fantastic service. I'm staggered by the very few businesses that understand the small tokens of appreciation between the shopper and the shopkeeper. How come somebody will spend £200 on a room for their anniversary, yet the thing they'll tell their friends is that they've been given a pair of free slippers to take away as theirs? On the high street, one of the best examples is Pret a Manger. It has a very simple rule - just employ happy people. You can teach a happy person to make a BLT. You can't teach a moody person to be happy. That's the simple difference.
12th October 2012
---