KBzine: the original kitchen and bathroom industry e-news - since 2002
14th May 2018
We strongly recommend viewing KBzine full size in your web browser. Click our masthead above to visit our website version.
---
SBID commits to KBB designers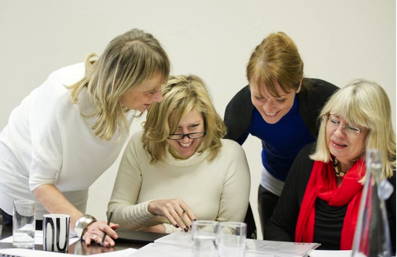 The Society of British Interior Design was set up four years ago to serve the needs of designers working within living environment in the UK. With the creation of a KBB Advisory Board, membership of the Society can now provide KBB designers with a meaningful design qualification.
The Society, which has its offices in London, serves a membership that includes archetypal interior designers, who work on a single room, or multiple rooms, within individual homes and it also includes the designers of interiors in hotels or offices or other public places as well as specialist designers such as those who work on kitchens, bedrooms and bathrooms.
"The common factor that most of these designers share," says SBID President Vanessa Brady "is that, unlike architects, there is no officially recognised qualification that these design practitioners can use to prove their skill, so nothing differentiates the best designers, in the eyes of potential clients.
"As one of my colleagues puts it; 'why should designers, with hard earned skills and experience, be tarred with the same brush as the cowboys'.
"To set a meaningful standard of entry SBID approached the European Council of Interior Architects. Let me just expand on that word 'meaningful' for a moment... what does it imply? It could signify that the qualification means something to potential clients and helps to build the trust that will clinch the sale, but before that happens, 'meaningful' has to work in the mind of the person receiving the qualification."
Mark Wilkinson OBE, who has encouraged all of his sales designers and technical designers to apply for the SBID qualification says: "Our company's designers are amongst the best in the industry, hugely experienced and I did wonder whether they would take a 'qualification' seriously, but every one of them has told me how pleased they are. Here's what one of our top London-based designers sent to me in email."
"Thank you for putting me forward for the SBID qualification, I am really proud of this. It's often difficult to prove your worth to people, as there is so little formal recognition or credit given to our particular skill-set. Not only do we bring our creative and interpersonal talents to a project, we possess a huge amount of technical knowledge and understanding of planning needs. This accreditation puts further distance between ourselves and those who just "line boxes up along a wall", and it will be a great networking tool too. Simon Hosein SBID, Society of British Interior Design, Design Professional"
"As anyone in the industry knows, confidence, in the make-up of a sales person, can be the difference between success and failure", continues Mark.
So, to answer the key question, 'Will attaining the SBID qualification bring more sales?', the answer, if it is used energetically, will be, 'Yes, it will'.
Now, take a look at why a qualification aligned to the standards of the European Council of Interior Architects can be described as 'meaningful'. The ECIA is an organisation formed 20 years ago, which represents professional organisations in Interior Architecture or Design. There are 27 European countries and 20 meet the ECIA standard and are members of the Council, which makes it highly representative of the design industry throughout Europe.
"I have to say that I am a little proud that SBID was accepted straight away", says Vanessa Brady, "but it isn't pride that prompted me to put our society forward. If any governance is being planned, at a European or UK level, which impacts on our industry, it can only be in UK designers' best interests that we have representatives sitting in on the debate; before any regulations are set."
Previously, the European Council had no British representation in any sector relating to design in the living environment and as its member organisation for the UK, SBID can incorporate the Pan-European standard for entry. This entry criterion allows experienced designers to use the SBID annotation as a qualifying mark of their competence.
More recently SBID has formed certification level relationships with the major design bodies in North America; the American Society of Interior Designers, the International Interior Design Association and the Interior Designers of Canada organisation, which puts professional designers with the SBID certificate on the same level as the members of those organisations, in the eyes of potential clients in these other countries.
This is the qualification that SBID is bringing to individual design professionals and design based companies in the kitchen and bathroom sector of the design industry.
The qualification - allows experienced designers and design studios to equate their years in the industry to a qualification that they can use to easily show their competence to potential clients.
This qualification is not the be all and end all, because such designers have been surviving well enough on their own, but it does make the process of selling their goods and services one step easier in times where demand throughout the whole construction sector is constricting and competition for goods and services has never been tougher.
On top of this, gaining the qualification is another feature to talk to clients about or to mention in Press Releases - the SBID certificate accredits its owner as a professional designer.
As the SBID spokesperson says; "There may be industry stalwarts, who disagree with SBID being associated with the kitchen industry, but there is nothing to fear, we are looking to dance with anyone in the kitchen and bathroom sector of our industry, who can help members of the industry maximise what their business offers, commerciality."
When an industry begins to look at setting standards and organising meaningful education systems it needs the help of Government endorsed bodies and the funding they manage, so links with the right people in the right departments in Parliament is important.
It's not always easy to see how this is useful to a busy kitchen sales/designer, but with the battle for business from the home being so aggressive these days and stretching across such a broad platform, the kitchen and bathroom design industry cannot afford to be left behind.
It's worth mentioning too, even though it is unlikely to come to the UK for a while yet, there is a requirement in some States of the US for practitioners in interior design to have passed the examinations set by the NCIDQ.
It seems more likely that this kind of qualification could be introduced into Europe first and then come into the UK as part of a European requirement.
It is however a simple indicator as to why, forming strong links within our Government and taking part in any debates that can affect our business, can only be a positive thing.
SBID now has links with NCIDQ and is currently field-testing the programme within sectors of its membership. There are two reasons for that, the first is that the NCIDQ qualification is the equivalent of a degree throughout Europe and satisfies the ECIA entry requirement for education, while strengthening design-standards amongst industry practitioners. Secondly it ensures that SBID is fully prepared should the same model of requirement come to Europe and the UK.
SBID also has strong industry links in the UK... Renee Mascari is one of the Society's Board of KBB Advisors:
"Designing, manufacturing and installing a kitchen or bathroom project from conception to completion requires skill and discipline,"she says. "Good practice stems from setting industry standards with education, plus a programme that recognises and supports the experience and skill-sets required to satisfy the high expectations of today's consumer.
"I am delighted to commit the Kitchens Bedrooms Bathrooms National Training Group to further the work being done by the team at SBID. Working together we will be able to develop strategies that will strengthen the drive to accredit and set industry standards and deliver good practice."
Vanessa Brady continues:
"In historical terms, we are still an emerging industry, and while SBID is committed to raising standards, it would be most unfair to put barriers in the way of career opportunities within the industry. That is one of the reasons that we have kept the cost of membership so low. Rather, SBID is here to help anyone and all profits are returned into the organisation for the benefit of the membership, be they individuals, companies or whole industry sectors like kitchen and bathroom designers, to take a more professional part in their industry."
image: Cheryl Gurner (l) of Bathrooms International discussing kitchen and bathroom design with SBID's Vanessa Brady; designer and TV presenter Naomi Cleaver and Renee Mascari of kbbNTG
T: 0207 738 9383
E: membership@sbid.org
W: www.sbid.org
15th March 2013
---