KBzine: the original kitchen and bathroom industry e-news - since 2002
20th April 2018
We strongly recommend viewing KBzine full size in your web browser. Click our masthead above to visit our website version.
---
Bath Fitter's EducationAd advertising funds 26 Fisher House scholarships for military children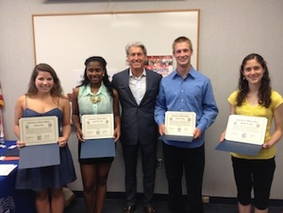 Some 26 sons and daughters of active, retired, or deceased service members are receiving $1,500 scholarships thanks to Bath Fitter and its EducationAd advertising through CBS EcoMedia. Each of the students are from the Philadelphia or Pittsburgh areas and will be getting vital funding for their payment of college tuition, books, lab fees and other related college expenses.
The Scholarships for Military Children Program, now in its 13th year, was created in recognition of the contributions of military families to the readiness of the fighting force and to celebrate the role of the commissary in the military family community. Nearly 7,500 students, all sons or daughters of commissary patrons, have shared $11,326,000 in scholarship grants. Each year the Fisher House scholarship program provides over $1 million to military children.
"Fisher House Foundation, together with Scholarship Managers, are honoured to administer the Scholarships for Military Children Program," says Foundation vice president Jim Weiskopf. "The young men and women selected to receive these merit based scholarship grants are most deserving. They are truly the best of the best. They will be our nation's future leaders."
Andrew Zahn, Public Relations Manager, Bath Fitter, says: "Bath Fitter is proud to support the sons and daughters of our Philadelphia and Pittsburgh area military veterans who give so much to protect our freedom. Fisher House does a tremendous job caring for the families of those who serve and these Scholarships for Military Children are another great way to give our men and women in uniform some additional peace of mind about their kids' higher education. We are excited to partner with CBS EcoMedia to use our advertising to help make a difference for the communities we care so deeply for."
Paul Polizzotto, Founder and President of CBS EcoMedia, explains further. "It's not just enlisted men and women who serve our country with courage, honour and dedication," he argues. "The children of military families also sacrifice - but all too often, their contributions to our nation's freedom and security go unheeded.
"Today, through the awarding of 26 Fisher House Scholarships, Bath Fitter and EcoMedia are delighted to recognise the academic achievements - and selfless service - of these very deserving children of military families. Thanks to the generous financial support provided by Bath Fitter through our EducationAd program, these inspirational young people will have the resources they need to continue their educations. It is a privilege to help them achieve their goals and dreams; at EcoMedia, it's our goal to fund, through our EducationAd, WellnessAd and EcoAd programs, a wide range of worthwhile projects like this one, which bring quality of life improvements to communities across the country."
This week at Joint Base McGuire-Dix-Lakehurst, Barbara Sannino, Defense Commissary Agency Zone Manager; John Zoubra, Defense Commissary Agency Store Director, and Donna Chew, Defense Commissary Agency Store Administrator, were joined by Bernard Cote and Janet Cote, Scholarship Managers for the Scholarships for Military Children Program; James D. Weiskopf and Paul Polizzotto, as they hosted one of the eight different celebration ceremonies for the recipients of the 2013 Fisher House scholarships made possible by Bath Fitter.
Scholarship recipients Daniel Carney, Kathryn Foley, Elizabeth Hager and Chantel Smith attended the ceremony at the Joint Base. In addition to the student recipients, their parents, teachers, high school principals and high school guidance counsellors are also expected to attend the ceremonies.
Of the 26 Fisher House scholarships being funded by Bath Fitter, 18 are going to students from the Philadelphia area and eight are being awarded to students from the Pittsburgh area. In addition to the McGuire Air Force Base scholarship ceremony, other Fisher House scholarship recipients will be celebrated at ceremonies at C.E. Kelly SF Commissary, Carlisle Barracks, Tobyhanna Army Depot Commissary, Dover AFB Commissary, Lakehurst NAES Commissary, Aberdeen Proving Ground Commissary and Picatinny Aresenal Commissary.
Bath Fitter is one of North America's leading acrylic bathtub, shower enclosure and tub-to-shower conversion companies. Its bathtub refinishing products are custom moulded to fit over existing fixtures for quick and clean bathroom renovations that last a lifetime. Best of all, the company says it can complete the installation in just one day without compromising quality.
With state-of-the-art manufacturing facilities in Springfield, Tennessee, and Montreal, Quebec, where it designs its bathtub liner and shower liner moulds and accessories made of top-quality acrylic material for bathroom remodelling projects, the company's finished goods are shipped directly to its retail locations via a fleet of specially equipped tractor-trailers, ensuring safe and on-time deliveries.
"We regularly train all of our personnel on bathroom remodelling trends, and also provide marketing and business support to our franchises to uphold Bath Fitter standards," says Andrew Zahn. "Additionally, we make it a priority to stay on top of the latest consumer trends in bathroom design and bathroom renovations to consistently meet the ever-changing needs of our customers. Our highly qualified technicians work diligently to ensure your complete satisfaction.
T: 1-800-892-2847
W: www.bathfitter.com
14th June 2013
---