---
International News
Products
Croydex inspires with innovative additions and new-look for firm favourite in latest collection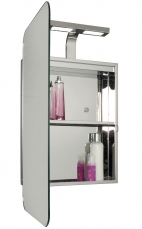 Additions to the Aqua Air, Flexi-Fix and Hang 'n' Lock collections, and a revamped Stick 'n' Lock range are among the new products unveiled in Croydex's latest catalogue.
Big on performance but low on water consumption, each of the six new water-efficient Aqua Air showerheads use the latest water-saving technology to draw in air and blend it with water flow, making each droplet bigger and softer. By enhancing the system's spray power, Aqua Air promises to reduce water use by up to 50% compared to normal showers.
more
---
BMA looks to the future at AGM


The Bathroom Manufacturers Association held a successful AGM at Hogarths Stone Manor, Kidderminster, electing a new presidential team that will help deliver the Association's ambitious plans for the next three years.
more
---
Blanco's Catris-S tap; for the ultimate in flexibility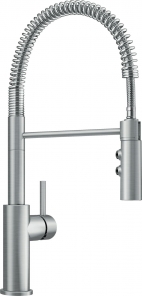 Blanco UK continues to create innovative designs for the ultimate flexibility for users. The Blanco Catris-S tap is the perfect example of Blanco displaying a striking and modern yet functional design.
The flexible spout can be swivelled from side to side, it also can easily be removed from the holder. The spout is fitted with two buttons for the user to change the water flow from normal to a spray.
more
---
No more leaks! See how it all works...


People have been saying for decades that a picture tells a thousand words, so what would a video be worth in those terms, we wonder, to companies such as Abacus Bathrooms, which boasts its own YouTube channel?
more
---
Shades of grey find new lease of life in kitchen design with matte finish



Formica Group reviews the kitchen surface trends making their mark in 2018
Shades of grey, white and black are dominating kitchen design in 2018. These versatile, albeit no frill tones, pair with any colour and finish, making them perfect for the modern kitchen.
With moodier aesthetics in demand, as seen at EuroCucina, grey, white and black décors are the perfect building blocks to design a kitchen around. Facilitating this trend, the Formica Infiniti Worktops range comes in 12 modern décors including four core neutral colours: Graphite, Fog, White and Diamond Black.
more
---
Kitchen TVs make handy save as World Cup kicks off


Love it or loathe it, for the next couple of months there'll be no escaping it; the 2018 World Cup is here, ready to polarise the nation's TV opinions once again.
More than 20 million UK viewers tuned in at home four years ago and there's no doubt that the tournament will be dominating the airwaves again this year. While that may be great news for football fans, it's likely to lead to disagreements in households where not everyone's as passionate about the beautiful game.
more
---
Arty Artago sink will stun in the kitchen


The new Artago sink from Blanco UK will fit perfectly into any kitchen scheme. It is available in two models, Artago 6 and Artago 6 IF/A. The Artago 6 comes in 10 Silgranit PuraDur colours; Alumetallic, Anthracite, Champagne, Coffee, Jasmin, Nutmeg, Pearl Grey, Rock Grey, Tartufo and the Artago 6 IF/A comes in two colours; Alumetallic and Anthracite.
Featuring a concealed C-overflow and the innovative InFino waste system, the unique models are incredibly hygienic and easy to keep clean.
more
---
Focus on stainless steel new tap range from Abode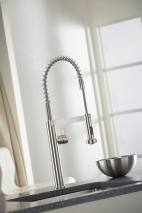 The first company to launch stainless steel kitchen taps in the UK, Abode continues to be ahead of the curve with six new trend-setting taps joining the range.
All manufactured from hard-wearing and natural 304 grade stainless steel, the new taps present a professional image in the kitchen, with their own distinct style, innovation and high quality finish.
more
---
Rangemaster's Paragon sink family extended with two new models


In line with the latest trends for minimalist kitchen design, Rangemaster has introduced two new additions to its Paragon granite sinks collection.
The new Paragon single and double bowl models are designed to blend seamlessly into contemporary kitchens, with both sinks suitable for undermount fitting. For added flexibility in kitchen design, the single model can also be fitted inset for a more traditional look, making it an excellent choice for refurbishment projects.
more
---
Facelift for Amica family laundry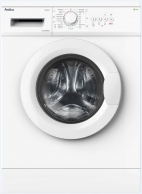 Amica has announced changes and improvements to three of its popular everyday washing machines.
Priced to appeal to the family market, all three machines feature a number of useful innovations - such as child locks and drum clean - a programme that keeps the drum smelling fresh and clean...
more
---


Hudson Reed has added to its Glass Collection with a new range of Walk-Through wetroom screens.
more
---