---
International News
Products
Striking new thermostatic showering from Burlington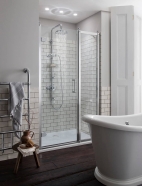 This month has seen leading traditional sanitaryware brand Burlington further extend its reach in to the showering market. A brand new range of thermostatically-controlled, 10 year guaranteed TMV2 showers is now available from the classically styled brand to further increase the portfolio of products.
Aptly named after famous British rivers the Trent, Spey, Tay, Eden, Stour, Severn and Avon; the new Burlington Traditional Showers combine period styling with modern know-how that comes complete with TMV2 approved valves for added safety, an 11mm bore on hoses (the standard is 8mm), internal filters to remove impurities and a non-return valve.
more
---
SBID International Design Awards 2015 now open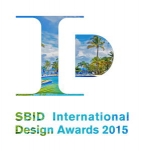 The SBID International Design Awards 2015 are now open for submissions. Since its inception in 2011, the SBID Awards has served to recognise, reward and celebrate all design excellence, from super luxury projects to innovative design and new talent on limited budgets.
Following the success of previous editions, this year's SBID Awards are designed to surpass the rest. The 2014 edition saw a 15% increase in entries than previous years from over 30 countries around the globe including the UK, Canada, Turkey, China, Russia, USA, Australia, UAE and more.
more
---
Blanco launches new CombiColour shade for Silgranit sinks


As the interiors trend for all things grey continues, Blanco Germany, one of the largest manufacturers of granite sinks worldwide, has unveiled a brand new CombiColour shade for its Silgranit series - Pearl Grey. Sleek, sophisticated and contemporary, Pearl Grey is a muted mid-grey shade that complements the natural grain of wooden cabinetry as well as the high sheen finish of gloss lacquered units.
more
---
Whirpool launches new Absolute design built-in and freestanding appliance range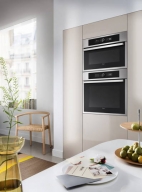 Whirlpool has launched a new and innovative Absolute design range of stylish built-in and freestanding appliances.
The combination provides a distinctive and matching profile across both product categories.
more
---
Angular and artistic: the new Tratto from MHS Radiators


MHS Radiators has added the modern and elegant Tratto to its collection of radiators and towel rails.
more
---
Striking new thermostatic showering from Burlington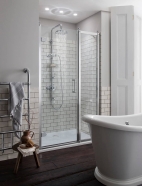 This month has seen leading traditional sanitaryware brand Burlington further extend its reach in to the showering market. A brand new range of thermostatically-controlled, 10 year guaranteed TMV2 showers is now available from the classically styled brand to further increase the portfolio of products.
more
---
Leisure Sinks meets the university challenge


Fifteen Linear LR1160DB stainless steel double bowl sinks from Leisure Sinks have been installed as part of a refurbishment of the Moor Lane Halls development, Preston. The 99-bedroom apartment block has 15 communal kitchens, each shared by up to seven students.
more
---
Utopia extends Qube range with new floorstanding option


Utopia Furniture Group is extending the popular Qube range with the addition of floorstanding options, co-ordinating bath panels and full height toilet units.
more
---
More than 160 new products unveiled by Croydex for 2015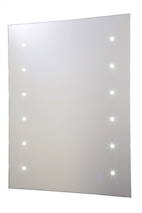 Quick-fix Click 'N' Lock bathroom furniture, illuminated mirrors and rust free wire ware are among more than 160 new products featured in the latest catalogue from Croydex.
more
---
Gorenje signs Sirius Buying Group as an official supplier


Appliance manufacturer Gorenje has announced the appointment of Sirius Buying Group as an official UK supplier. As a result of this partnership, Sirius will be able give its members access to Gorenje's entire portfolio of products, including new lines added for 2015.
more
---
Manufacturing apprentice talks about learning safety and new skills, in unison


The British Safety Council's priority is to raise young people's awareness of health and safety risks. A new video, Manufacturing risks: an apprentice's view, features Leila, a young apprentice engineer, walking a production line while she talks about risk and learning new skills.
more
---
Tradesmen call upon future government to increase availability of skilled workers through support for apprenticeships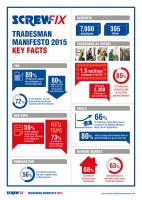 UK tradesmen, ahead of 2015 elections, are calling for Government support to increase the availability of skilled workers through the encouragement of apprenticeships, according to new research conducted by multi-channel retailer Screwfix.
more
---
Infrarad - the smart way to heat it up


Working in a different way to other forms of heating, infrared heating potentially consumes half the energy required to run conventional radiators so can heat a commercial or residential property for less than the cost of older, inefficient gas and oil boilers. Infrared heating also substantially cuts electricity bills where it replaces an electric boiler, electric convector heaters, storage heaters or electric space heaters.
more
---
A colourful future for classic kitchen design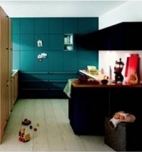 Contemporary-classic is without doubt the stand out trend for 2015 - the merging of classical and contemporary says schueller. From the muted colours of a more historic palette used across contemporary designs and finishes, to modern high gloss fronts on classical country style cabinets, it's all about creating options that suit both personal style and architectural surrounding.
more
---