---
International News
Products
New Infinity: a design to suit bathrooms of any size or shape


New from Crosswater, the Infinity enclosure collection is designed to offer the ultimate in-shower experience for everyday use. Available in a choice of enclosure styles including quadrant, pivot door, single slider and walk-in, the collection is designed for installation in bathrooms of any size or shape.
As with all of Crosswater's products, quality and long-lasting durability come as standard across the range of Infinity shower enclosures. Surrounded by a contemporary polished stainless steel frame, 8mm toughened glass offers a superior power shower-proof surface that will withstand the daily wear-and-tear of multi-person use.
more
---
Introducing Köngistone: Feel at home


Taking its name from the German word for 'king', Königstone was created in 2005 with the aim of providing quartz products of the highest quality for use as surfaces in kitchens and bathrooms.
more
---
New space saving cooling from Amica


Perfect for a kitchen where space is short or as a replacement for an older appliance, Amica's new FC2093 larder fridge is just 55cm wide compared to the usual 60cm. There is a strong replacement market for 55cm fridges for both consumers looking for extra storage and this size is also popular in social housing.
The fridge is 1235mm high so there's an impressive 204 litres of cooled storage space - perfect for fresh foods. It has four shelves, a roomy salad crisper, four spacious door balconies and has an A+ energy rating.
more
---
Practical, adaptable Evolve - top choice for Nest Kitchens' community project


Good habits start young - which is why top-rated Bramhope primary school in Bramhope, Leeds, is introducing hands-on cooking lessons for its pupils. When the company heard of the project, Harrogate-based Nest Kitchens, which specialises in bespoke furniture, decided it would like to be involved.
more
---
Unidrain: an exact fit for Copenhagen's Luxury Hotel Herman K


Unidrain's HighLine drain and Reframe Collection of bathroom accessories were selected for all the Ahead Award-winning Hotel Herman K's designer bathrooms.
more
---
45-litre cooling perfect second-tier option for retailers


A small 45-litre refrigerator makes the ideal second-tier cooling option for retailers interested in this growing segment of the appliance market according to Canada's Danby Appliances.
The brand which launched with Exertis late last year is now unveiling a retro-inspired compact countertop refrigerator as it's second product for the UK and European markets.
more
---
Bushboard invests in award-winning Nuance


Striking, faster and more economical than traditional ceramic tiling, Bushboard's 100% waterproof Nuance bathroom panels have been a massive success in the domestic and commercial bathroom markets both here and now in mainland Europe.
more
---
New Valarte makes classic current


VitrA has announced details of a new bathroom range joining its Signature Collection during March. A perfect complement to the contemporary designs associated with VitrA, Valarte introduces the popular Shaker design which combines simplicity with fine craftsmanship and functionality.
more
---
Schmidt makes the impossible possible


Schmidt proudly presents the 'Vertical Home', a new concept that illustrates how nothing is too much trouble when it comes to challenges for ultra-personalised home living projects!
more
---
Franke launches retailer incentive scheme for hoods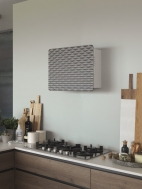 Franke Impress hood in Metallic Grey
Franke has launched its first ever retailer reward and incentives scheme for its hood category and it is in operation now. Retailers can open a direct account with Franke to purchase hoods from its extensive portfolio, while also earning attractive margins.
more
---
New Hotpoint freestanding microwave provides extra cooking space


Hotpoint has launched a new freestanding microwave oven with grill and crisp plate) that features Flat Bed Technology, which creates more space for the user to cook multiple dishes simultaneously.
more
---


Darker shades in kitchens are really popular this year; so ever the pioneer, Keller, has launched a new melamine colour, Metal Black, which offers an industrial style to complement the stunning Bolton model so homeowners can stay on trend. This model is perfect for contemporary and traditional homes.
The industrial element is reflected through the smart cube-shaped units, reflective of warehouse storage shelving, and dark coloured tin handles (no 672 from Keller's range) which can be matched with aluminium framed display cases (as pictured).
The Bolton model is also available in Concrete, Rust and Marble White.
---
Rotpunkt urges KBB industry to support further education apprenticeships


German Kitchen furniture designer and manufacturer, Rotpunkt, shows its support for further education in the kitchen industry, following the successful submission by FIESTA [Furniture Industry Education & Skills Training Alliance], which has led to IFA [Institute for Apprenticeships] approving new Level 3 apprenticeship standards for Fitted Furniture Design.
Helping to 'provide a clear path into the kitchen industry', this announcement marks an important step for a qualification that sits just under the Level 4 & 5 FDA Foundation Degree in Kitchen Design, currently offered.
more
---