---
International News
Products
VitrA launches Equal - a new bathroom collection created in collaboration with Italian architect & designer Claudio Bellini


Pursuing its longstanding tradition of working with acclaimed international designers, leading bathroom brand VitrA announces its latest collaboration with celebrated architect and designer, Claudio Bellini.
Launched at ISH this year Equal explores the fusion between the organic shapes found in nature with the architectural lines present in an urban environment.
more
---
ViClean-I 100 combines purism with technology and comfort


ViClean-I 100 from Villeroy & Boch sets a new standard in the design of shower toilets. It looks just like a conventional toilet, as the technology has been integrated into the ceramic and not the seat.
ViClean-I 100 boasts clear lines and a minimalist look, accentuated by the ultra-flat toilet seat. Add to that the intuitive use and convenient shower functions and the new ViClean-I 100 becomes a subtle centerpiece in any purist bathroom.
more
---
LDL to offer L&S Italian lighting range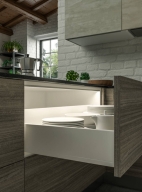 L&S, the Italian lighting specialist, is the latest addition to the LDL portfolio of premium furniture component brands. Established over 40 years ago, L&S is an internationally renowned pioneer of high-tech lighting solutions for the home.
LDL is delighted to be the official UK distributor and to represent such a well-established and innovative brand.
more
---
KBSA says rise in induction hobs is changing dominance of gas in the kitchen


The Kitchen Bathroom Bedroom Specialists Association responded to the Committee on Climate Change's 'UK housing: Fit for the future?' report - published last week, by reporting that gas is losing its dominance in the kitchen in favour of induction for cooking.
more
---
XSquare bathroom furniture range secures Duravit the iF Design Award 2019


Duravit was among the winners at this year's iF Design Award; for the XSquare bathroom furniture series, created by Duravit in conjunction with the designer Kurt Merki Jr.
The XSquare furniture range is both impressive and striking, with contemporary, elegant style. The quadrant-shaped chrome profile which edges the furniture emphasises its characteristic design. On the floor-standing model, the transition from the body of the furniture to the base is absolutely seamless.
more
---
Industrial design on tap with new Hex range


Abode is often at the forefront of the latest kitchen trends and tapping into the burgeoning trend for industrial elements in kitchen design, Abode has launched Hex.
more
---


The complete range of Bushboard Nuance waterproof bathroom panels is now available on the ArtiCAD design system. Designers will be able to show Nuance panels in 'real life' settings - and the picture can be changed in seconds so that customers can see alternatives.
"We are delighted that the Nuance range is now available on ArtiCAD," comments Paul Findlay, product sales manager for Nuance. "The ArtiCAD system means that consumers and specifiers can get a clear view of how the panels will look in any bathroom - and allows retailers to present different options for those who have problems making a buying decision."
more
---
New Infinity: a design to suit bathrooms of any size or shape


New from Crosswater, the Infinity enclosure collection is designed to offer the ultimate in-shower experience for everyday use. Available in a choice of enclosure styles including quadrant, pivot door, single slider and walk-in, the collection is designed for installation in bathrooms of any size or shape.
As with all of Crosswater's products, quality and long-lasting durability come as standard across the range of Infinity shower enclosures. Surrounded by a contemporary polished stainless steel frame, 8mm toughened glass offers a superior power shower-proof surface that will withstand the daily wear-and-tear of multi-person use.
more
---
Introducing Köngistone: Feel at home


Taking its name from the German word for 'king', Königstone was created in 2005 with the aim of providing quartz products of the highest quality for use as surfaces in kitchens and bathrooms.
more
---
New space saving cooling from Amica


Perfect for a kitchen where space is short or as a replacement for an older appliance, Amica's new FC2093 larder fridge is just 55cm wide compared to the usual 60cm. There is a strong replacement market for 55cm fridges for both consumers looking for extra storage and this size is also popular in social housing.
The fridge is 1235mm high so there's an impressive 204 litres of cooled storage space - perfect for fresh foods. It has four shelves, a roomy salad crisper, four spacious door balconies and has an A+ energy rating.
more
---
Practical, adaptable Evolve - top choice for Nest Kitchens' community project


Good habits start young - which is why top-rated Bramhope primary school in Bramhope, Leeds, is introducing hands-on cooking lessons for its pupils. When the company heard of the project, Harrogate-based Nest Kitchens, which specialises in bespoke furniture, decided it would like to be involved.
more
---
Unidrain: an exact fit for Copenhagen's Luxury Hotel Herman K


Unidrain's HighLine drain and Reframe Collection of bathroom accessories were selected for all the Ahead Award-winning Hotel Herman K's designer bathrooms.
more
---
45-litre cooling perfect second-tier option for retailers


A small 45-litre refrigerator makes the ideal second-tier cooling option for retailers interested in this growing segment of the appliance market according to Canada's Danby Appliances.
The brand which launched with Exertis late last year is now unveiling a retro-inspired compact countertop refrigerator as it's second product for the UK and European markets.
more
---