---
International News
Products
Sensor technology at its best with Blanco's Solenta-S tap


Blanco UK has redefined sensor technology to make life in the kitchen easier. The Solenta-S tap has a manual or hands-free Start-Stop mode. With a near field sensor detection located in the hose arm, unwanted activation is prevented.
Utilising a professional design, the stainless steel product is elevated with a precise magnetic spray holder for user accessibility. Designed for convenience, the Solenta-S is available with the lever on either the left or right side making it a perfect match for user's preferences.
more
---
Roca goes above and beyond at KBB


Roca, the world leader in creating imaginative, beautifully designed and sustainable bathroom solutions, will be unveiling innovative new designs at kbb Birmingham. At the show, which takes place from 4-7 March 2018 at the NEC in Birmingham, Roca will be launching its eagerly-awaited Beyond and Carmen collections as well as exhibiting the new Armani/Roca range.
more
---
Velvet Victoria sleigh bed will provide that bedroom glamour


With grey still going strong and velvet and metallics both set to be big news in 2018, the Victoria sleigh bed from Hyder Living ticks all the trend boxes.
more
---
New Kinemagic model even more accessible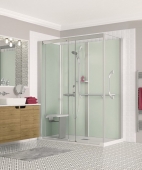 The Kinedo range of cubicles from Saniflo has been extended with an extra model in the Kinemagic range.
The Kinemagic Serenity Plus is a high quality, all-in-one shower cubicle that has been designed to fit in exactly the same space as a standard bath and can be installed with the minimum fuss and hassle.
more
---
KBB 2018: Rehau's Rauvisio to take centre stage - M123


Rehau will be showcasing its innovative and flexible Rauvisio surface materials and edge banding product range, which add a stylish and durable finish to any surface or furniture.
One of the products taking centre stage will be the Rauvisio Crystal Mirror. Technically known as polymeric glass, Crystal Mirror is one of the most advanced mirror materials in the world, and is a great alternative to mirrored glass.
It is aesthetically as beautiful as real glass yet has none of its limitations, opening up new and exciting opportunities in the design and production of kitchen, bathroom and bedroom furniture and surfaces.
Alongside Crystal Mirror, Rehau will also be introducing visitors to Rauvisio Wave, Karat polymer-stone and Mineral solid-surface ranges plus its new Crystal Decors portfolio.
---
British Ceramic Tile combines the old with new to advance its production techniques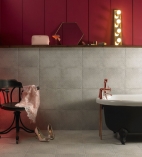 While some tile manufacturers threw out the old with the new, British Ceramic Tile chose to re-evaluate its production techniques fusing together two manufacturing processes to deliver product collections with the extra wow factor.
With sales of collections such as Luna and Ted Baker Geometric growing month on month, the company has plans to increase its product portfolio to include more ranges that offer this innovative production process which sees the latest in inkjet technology combined with rotocolour printing.
more
---
Bijoux accessories are perfectly formed


Perfectly formed to complement small en suites and bathrooms short on space, the new 45cm towel rails from Vado have been elegantly fashioned to coordinate with bijoux sanitaryware to create the perfect finishing touch.
Not everyone wants a towel ring, or has the space for a standard 60cm rail. Recognising the shift in trend towards smaller, minimalist bathrooms, the new shorter rails have been developed to satisfy this market need.
more
---
Innovative modern design with Blanco's Collectis 6-S sink


The Collectis 6-S sink demonstrates the innovative modern design from Blanco UK which meets the users' needs. The generous sized functional sink has a central sorting bin to make it convenient for the user when organising and preparing food.
The sorting bin comes with a lid to cover the bin when not in use and is integrated with a sorting compartment which is fitted with a space-saving waste pipe to collect the waste cuttings.
The Collectis 6-S can be combined with BlancoSelect to make the ideal waste disposal system.
With an elegant look and practical outflow, the Collectis 6-S is available in White, Tartufo, Pearl Grey, Nutmeg, Rock Grey, Jasmine, Coffee, Champagne, Anthracite and alumetallic. The large range of colours offers the user multiple choices to suit a particular kitchen style.
T: 01923 635 200
W: www.blanco.co.uk
---
KBB 2018: InSinkErator to launch new products - G120, Hall 19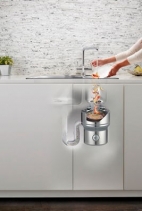 As well as launching new products, InSinkErator will be showing its extensive product portfolio encompassing all product categories, including the award-winning Brushed Gold 3N1 L Shape steaming hot water tap, while the premium Showroom Collection will have pride of place to attract independent kitchen specialists.
more
---
KBB 2018: British Ceramic Tile sets out to sell the dream, bringing the latest interior trends and new product launches to retailers - D89


'Sell the dream, not just the tile' is the key message to retailers from British Ceramic Tile at KBB this year. The company is looking to work with retailers at the show, communicating the key trends set to influence the market and the solutions that will help consumer dreams become a reality.
more
---