---
International News
Products
Amica forecasts seismic shift to induction


Amica home appliances in the UK and Ireland is anticipating a shift to induction hob top cooking and to meet demand has announced a new generation of feature packed, great value induction hobs to complement a refreshed product line-up of built-in and freestanding products.
Simon Freear, Country Manager for Amica says: "Induction cooking will be the energy of choice for future generations of appliance buyers now that prices are within easy reach. The high speed, ultra-safe operation, super easy to clean and ultimate energy efficiency all contribute to what is likely to be a seismic shift away from ceramic and electric-plate hobs.
more
---


Add a touch of nature to a kitchen or bathroom with this raw, untamed Safari shade from Lustrolite... Let Safari's woody grey-green tones transport you, or your clients, to the broad plains of Africa and make your home an adventure...
Lustrolite's glass effect acrylic wall panels are the perfect way to breathe life back into a kitchen and bathroom and a great way to incorporate current trends into a home. Lustrolite is available in nine amazing colours - Arctic, Glacier, Blue Atoll, Rouge, Mocha, Safari, Forest, Titan and Carbon - all of which can be used for both kitchen splashbacks and shower and bathroom walls.
more
---
Methven launches three new tapware ranges with 20-year guarantee


Methven - the global designer and manufacturer of premium showers and tapware - has extended its tapware offering with three contemporary ranges; Breeze, Indra and Cari. The new ranges are characterised by elegant lines and add further depth to Methven's current suite of tapware, all guaranteed for 20 years.
The three ranges each feature a mono basin mixer, a bath filler and a bath shower mixer. All bath shower mixers include a Maku shower handset, which incorporates Methven's patented Satinjet twin jet technology with over 300,000 droplets per second providing an immersive full body showering experience.
more
---
Let kitchen creativity flourish with the new feature-packed Haier 70 Series fridge-freezers


Made up of premium-design, multi-door models, Haier's new 70 Series range of combi fridge-freezers is characterised by best-in-class performance in energy efficiency (A++) and low noise level (38dB), as well as excellent access via both the refrigerator door and ergonomic pull-out drawers.
The 70 Series fridge-freezers all feature an XXL capacity to provide the maximum amount of storage space, while the flexible MyZone compartment and a host of easy-to-use features encourage the creativity of users in their kitchen.
more
---
New recess shower solution for compact bathrooms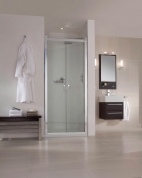 UK shower enclosure manufacturer Aqata has launched a new recess option for the bathroom, increasing its line-up of luxury shower solutions for recessed spaces. The new Spectra SP462 Double Door Recess option features hinged inward opening doors allowing easy access to the shower.
It offers a simple yet practical solution for compact bathrooms, allowing maximum showering space outside the shower area whilst providing ample showering room inside.
more
---
Aging population needs 'future-proofed' bathrooms


With approximately 3000 people turning 65 every day of the week in the UK, Ripples says it is seeing the demand for future proofing for stylish accessibility continuing for years to come. With recent medical advances and a greater awareness of how to live a healthier lifestyle, many people are not only living longer, but they are also living fuller lives.
more
---


Abode has launched Modo, an eight piece range of beautifully designed, eco-friendly bathroom mixer taps for both basins and baths.
Cascading flows of water are the inspiration behind the Modo range and the spouts have been designed to be non-splash to ensure that water cascades evenly into the basin or bath. The design-led taps feature rectangular lines, contrasted against cylindrical forms and this luxury chrome tap collection looks stunning even when water isn't running.
more
---
Five modern natural stone baths for stunning Clearwater Portfolio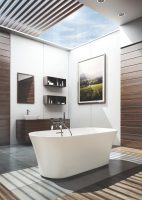 Clearwater Baths, the stunning Natural Stone freestanding bath and basin collection from Bathroom Brands, has been fine-tuned, replacing models that were non-stone with a brand new range of Modern Natural Stone freestanding baths, in five new sleek and forward thinking models.
Natural Stone has proved so successful that the manufacturer has streamlined the range in favour of all natural stone. Natural Stone provides a rigid and strong bath of great elegance, without any need for ledges or surrounds. It is cleverly priced to offer not only great value for money but is also very competitive in this part of the market.
more
---
Whirlpool launches award-winning Supreme Care laundry range


Whirlpool has launched a new, award-winning Supreme Care range of perfectly matching front loading washing machines and tumble dryers. The product's strongest asset is its exceptional performance level in noise, which claims the quietest spin cycle on the market, thanks to Whirlpool's revolutionary new ZenTechnology.
more
---
Hoover Wizard launches at London's Saatchi Gallery


On Wednesday, London's Saatchi Gallery saw Hoover unveil the UK's first full family of WiFi enabled kitchen appliances, Hoover Wizard. The event attracted over 100 guests and journalists, who enjoyed presentations from the senior Hoover team, live demonstrations of the appliances, as well as a specially choreographed performance from robotic dance act 'The Dance Mob.'
more
---
Perfect Fit - a new bespoke kitchen concept from Schmidt, custom made to suit individual space


When it comes to kitchens, no two rooms are alike. With architectural features to work around, awkward areas to negotiate and narrow gaps to fill, it's essential to maximise the space and incorporate as much storage as possible to create a clean, clutter-free kitchen that's as functional as it is fabulous.
more
---
Tonic II Range makes a splash for Ideal Standard at London's iconic OXO Tower


Some 200 delighted guests attended the launch of Ideal Standard's Tonic II with AquaBlade flush technology launch. The new collection was designed by award winning German design studio, Artefakt and comprises of ceramics, fittings, furniture and bathtubs.
more
---


Kitchen replacement company, Dream Doors, is tapping into the fashion stylist and interior designer's ongoing love affair with all things copper with the launch of the new Ultragloss Copper Leaf doors.
more
---
Welcome luxurious, sensual Rouge into your kitchen or bathroom and lead the catwalk!


Use Lustrolite in Rouge to add a pop of colour to your home...
more
---